If you have any questions about the parish or our teachings and practice, please feel free to contact the pastor via one of the options listed below. You may also click on the button below to submit a prayer request or to request contact from us.
43055 Kenai Spur Highway (Mile 16)
Kenai, Alaska, USA
NOTICE: Internet searches showing us located at 201 N. Forest Drive, Kenai, AK are wrong. We are located at the 43055 Kenai Spur Highway address (exactly at Mile 16) and are located on the bluff side (west side) of the Kenai Spur Highway. Please use Mapquest to get a correct mapping of our location (see below map). Google Maps will not give you the correct information as to our location.
DIRECTIONS: From Kenai, take the Kenai Spur Highway west and then follow it as it turns north towards Nikiski. We are about 3.96 miles west and then north from the Forest Drive/Kenai Spur Highway intersection (which is at 12199 Kenai Spur Hwy) in Kenai. Our church is the log building at Mile 16 on your left (west side of the Kenai Spur Highway) when coming from Kenai.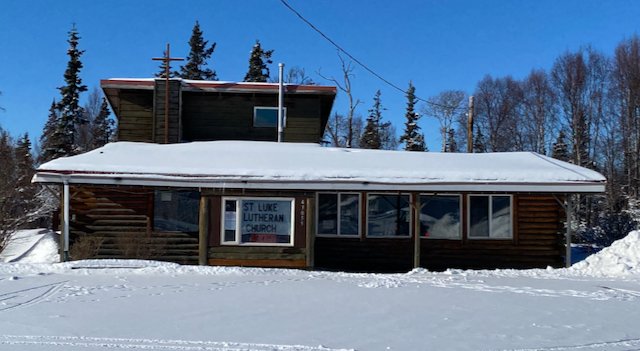 Picture of St. Luke Lutheran Church at Mile 16 of the Kenai Spur Highway, Kenai, Alaska.
PO Box 1404
Kenai, Alaska 99611-1404
Pastor:
pastor@saintlukekenai.com
Administrator:
admin@saintlukekenai.com
907-283-5455
Note: The FCC requires that all 10-digits be dialed when making all local and long distance calls made by cell phone and land line in Alaska.